More leaked photos of Conan the Momoan
Thursday, May 13, 2010
posted by Miguel Martins
Here, to my knowledge, are the latest leaked pictures of Jason Momoa as Conan, or to be more accurate what you can contemplate are photos of photos taken at Cannes. The Film Festival started yesterday in that seaside city of Southern France, which hosts numerous screenings, market discussions and the like in addition to the official competition.
What you are seeing are possibly some of the numerous pics seen by Howardian scholar Patrice Louinet and commented on by fellow blogger Al Harron in this post last April. In any case, these pictures whose purpose is seemingly to sell the films to distributors will give you –despite their poor quality due to their source– a good idea of Momoa's physical appearance in the finished motion picture.
I was initially very skeptical about Momoa's casting. Now, if I'm still leaning on the pessimistic side, I'm beginning to think that Momoa could make –at least physically– an acceptable Conan. As seen in the blurry cell-phone photographs this week, we can confirm that Momo has indeed bulked up, though if the actor's torso and abdominals looks more muscular than before, I would have appreciated if he had Howard's Conan "broad shoulders" and "heavy" arms, said body parts remaining still too thin, even for a 'Barry-Windsor-esque' Cimmerian.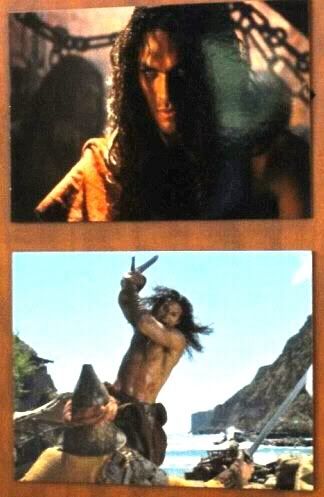 If my myopic eyes or the bad light exposure of the pics are not fooling me, what I find even more annoying is the ludicrous absence of scars sported by 'Conan the Momoan'. Robert E. Howard's Conan was a barbarian who grew up fighting Picts and Vanirs in northwestern Cimmeria; his name was repeated with respect around the council campfires of his kinsmen when he wasn't even a full-grown man. He is describded numerous times as scarred by his creator and should wear the marks of his tough upbringing, tribal feuds and wars with the Picts, even as a youth. That is one of the things which would not have been very difficult to fix with make-up. Apparently, it wasn't deemed necessary, by the production. I could also nitpick and mention the lack of hair on his torso. But overall, I quite liked the dynamic poses of Momoa in some of these pics.The sword he is using seems to be a functional weapon and not an Atlantean wall-hanger, something which is a relief.
Anyway, my hopes are not high concerning this project; the main protagonist is not my biggest concern and I'm firmly in a wait-and-see attitude toward Jason Momoa yet –actually, I still don't know if he can act well. What we have heard of the script and Lerner/Nispel's credentials/intentions are what worries me the most today.
AL ADDS: God damn it. Though I share all my francophone friend's reservations regarding the lack of scars, I must say, he's starting to look pretty darn acceptable as Conan. If he shows sufficient acting skills, this might be a repeat of Solomon Kane–a perfectly serviceable actor being completely wasted in a film due to the script. Man.
… AND MIGUEL ADDS: Many thanks to fellow blogger Jeffrey Shanks, who lightened up a bit the second set of pictures.